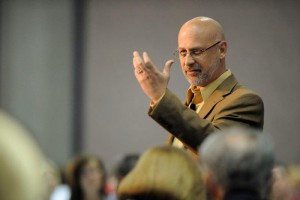 (Each topic may be presented in a half day or full day format)
"Coach to the Goal":
A leadership strategy that balances the need for relationship and accountability.  "Coach to the Goal" is an enlightening change of perspective that will revolutionize traditional leadership methods. This approach applies to everyone, from an entrepreneur, a front line leader, or a CEO, and when employed will result in a care for, connected, well-trained and highly motivated staff.
Through the mastering of "The Coach Approach" you will learn how to:
Motivate talented and problem employees!
Build a team of employees into super-productive, motivated winners!
Give clear direction and require tough accountability!
Value your employee's love, trust, and respect!
"Recruit to the Goal"
answers the all important question "Who are the right people to put on my bus?"  Life and business would be easy if it weren't for the people! How many times have you heard this?  Yes, the greatest challenges come from having the wrong people.  And your greatest satisfaction comes from having the right people!
"Recruit to the Goal" is a common sense plan that will teach you to hire and retain only the best and the brightest!  This presentation will turn traditional interview and selection practices on its  head. With his over 20 years experience and countless real world stories in hiring Michael's message will challenge you to:
Get and stay focused on your most critical organizational success factor — the quality of your people!
Hire only people better than you — the key to extraordinary performance!
Learn the importance of a "values fit" — the key to sky high retention.
Seek first and foremost character and coach-ability — the key to a coveted reputation!
"Unleashing the Power of Your Team"
is a proven strategy that will open the flood gates of your team's potential! Think about how successful your business could be if you tapped into the limitless resources of each employee. You can create a team of winners that is innovative, responsive and results-oriented.
Through the "Unleashing Process" you will learn how to:
Give your people permission to be great.
Create an "Ownership Mentality" within your employees.
Remove obstacles that hinder motivation and performance.
Develop a culture where initiative and failing forward are the norm.
"The Power of Love at Work"
Don't let the title fool you. The secret is getting out. Love is the most powerful motivator in the world. Not the warm and fuzzy kind, but the tough, honest straight forward kind. In this unique presentation Michael:
Will teach you the importance of creating caring relationships based on mutual trust.
Will challenge you to build a culture that values honest talk and face to face communication.
Will convince you that real love that allows people to feel safe and thrive is one that stresses no nonsense performance and genuine accountability.
Other seminar and workshop topics available are –
How to Design a Successful Selection Process
How to Interview for Fit and Performance
Motivation 101 – Three Keys to Getting Out of the Way and Turning Loose Your Employees